Let's face it.  We are all human, and being human means we lose our temper sometimes.  Everyone gets angry.  Honest.  We all do.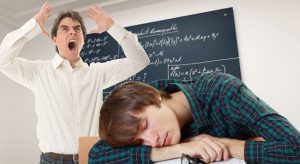 Yelling is one way we humans cope with anger.  It can be a way of telling others that we are angry.  If our goal is to communicate that we are angry, it works pretty well.  However, if our goal is to change THAT student's behavior, it is not the most effective route.
I've interviewed many students over the years, at the elementary, middle, high school, and college levels.  They have increasingly told me that a teacher who would yell became fair game to them.  It became a game to see if they could make the teacher lose his/her temper and yell.  I find that appalling and scary that more and more students find out of control behavior funny and desirable, and I could speculate for pages on end about why that has happened.  However, the purpose of pointing it out here is to show that yelling may actually play into THAT student's hands.
Many challenging students do not have a role model for what to do when angry other than yelling, screaming, hitting, or destroying things.  These behaviors cause many children to become anxious, and researchers have begun to classify growing up in a chaotic household as trauma..  The yelling may, to them, signal that something scary is going to happen.  They may respond by acting like nothing bothers them, or they may act out or they may withdraw.  All of these can be signs that the child has experienced this sort of trauma.  And when a child has experienced trauma, they are more likely to not respond well to yelling, and they are honestly not able to make changes in their behavior.  Childhood trauma actually rewires the brain, and not in a good way.  (We'll talk more about the effects of trauma in another post.)
Consider apologizing.  Now back in the dark ages when I was training to be a teacher, we were told to never apologize.  We were told that it would make us look weak.  I'm calling BS on that.  Apologizing demonstrates what a mature person does when they lose control.  THAT student probably NEEDS to see that people can say "sorry" and that it is not the end of the world.
We can be role models for other kinds of behaviors when a person is angry.
We may need to repeat the mantra, "I am the grown up.  I am the grown up. I am the grown up." many, many times to avoid losing our temper and showing an alternative to yelling.
We may need to perfect our use of "the Look" – you know, the teacher look – in a way that says, "do not do that."
We may need to train ourselves to speak in a much lower, quieter voice when we are angry.  I've found that students (and children and grand-children) really come to attention when I start speaking very softly and slowly while giving the Look.  One granddaughter witnessed me doing that with a car repair person.  Later she asked, "I wonder if he knew how close he was to dying?"
Consider what would go on inside THAT student's head if you lowered your voice and said, "I'm too angry to talk to you about this right now.  I will talk to you right at the beginning of recess."  (Or before lunch, or at the end of the class period, etc.)  What would THAT student be thinking?  His/her anticipation of what will happen is often communicates more than yelling at him/her would.
I taught fifth graders to leave me alone if I was "on vacation."  That is, I would put a post card of a tropical beach up on my desk.  I'd written "on vacation, back in . . ." on it.  I also had a timer that I would set.  So my "vacation" might be 5 minutes or no more than 10 minutes.  I would use the time to get that homework ready for that sick student, or to file some paperwork, or to check email.  All the time I was doing that, I was taking deep breaths and thinking calming thoughts.
And speaking of interruptions, don't they drive you crazy?  They do me!  And when I'm being driven crazy, I tend to get angry.
So the next thing to consider is "what are the things that happen in the classroom that make me angry" and then think of ways to avoid having those things happen.
I hate interruptions.  I'm not talking about the student who blurts something out.  I'm talking about things like when I'm working with this small group, and a constant stream of students suddenly have to ask, "Can I use the bathroom?", "Can I get a drink?", "Can get a pencil out of my back pack?"  You know what I mean.
I taught the students to write their questions on little white boards in a what that could be answered yes, or no.  If I was working with a small group, they could write on the white board, and walk to a place where they could hold it up and I could see it.  I could then nod my head yes, or shake my head no.  I found this really helped me avoid getting angry about interruptions.
What things in the classroom tend to make you angry?  Make a list.  Now think about how you could structure things to help prevent those things happening.  Can you create a procedure?  (Remember, any procedure must be taught, practiced, and reinforced.)
Above all, think about this:  behavior of any kind is a sort of communication.  When babies "act out" we recognize that they are telling us that they are hungry or wet or tired or need cuddling.  We tend to forget that children, adolescents, and even adults do things to communicate needs.  Consider what THAT student's behavior is telling you.  Sometimes if we treat situations as a puzzle or a mystery to be solved, we are less likely to be angry about it and more likely to treat it as data.
We've known for a long, long time that the most effective thing to do when trying to change student behavior is to notice and recognize the positive things a student does.  Positive recognition helps the student know what it is s/he should do again.  If we only tell kids what they've done wrong, they never learn what they should do instead.
Now, I do not mean giving students tangible rewards.  Giving kids candy, or stickers, or a trip to the treasure box does not change behavior for the better in the long run.  Instead studies show that it actually decreases student engagement in whatever the task is.  Other studies have shown that giving tangible rewards for anything beyond rote memorization actually decreases productivity.  (I highly recommend Daniel Pink's TED Talk on the subject.  You can see a YouTube video of it here:  https://www.youtube.com/watch?v=u6XAPnuFjJc )
In addition, it is good to think about the underlying message we send when we reward behaviors or academics with tangible rewards.  Are we saying that this is only worth doing if we get something for it?  Are we saying that the good feeling we get when we succeed at something is not enough?
Tangible rewards can be useful with some students who have challenging behavior.  However, that practice comes with some limitations.
First, the goal of using tangible rewards to change behavior is to make that behavior go away, or to replace it with a different behavior.  To do that, we have to wean the student off the tangible rewards because eventually we want the student to do X without the reward.
Second, the reward must mean something to the student.  If I don't particularly like chocolate, giving me a mini candy bar for X isn't going to mean a lot to me.  (Yes, there are people who do not like chocolate.  I'm one who can take it or leave it.)
Third, the reward has to be something attainable.  I've seen too many children who have been set up to fail because of this.  For example, Cody's* parents promised him that if he did not have any trips to the principal's office for the whole 9 weeks, they would buy him a bicycle.  Cody wound up being sent to the principal's office during the first week.  Cody usually was in the principal's office 3 or 4 times a week, so being sent only once during a week was actually a real improvement.  It showed he was really trying to make a change.  But it also meant he wasn't going to get that bike.  As a result, Cody now had nothing to lose and his behavior actually got worse.
*Names are changed for confidentiality purposes.
Fourth, many students with challenging behavior respond to rewards only if they are given by someone the student believes likes him/her, and who has a relationship with him/her.  If THAT student perceives the teacher as his/her enemy, all the candy bars in the world won't change his/her behavior.  It is true, however, that some many change their behavior just enough to get the reward, but often it is done with a heavy dose of the attitude that says,  "I'm just doing this to get that thing, I still hate you and I am still going to make trouble."
And, finally, I've noticed that students who receive a lot of tangible rewards develop what I call the "what'll ya gimme" syndrome.  That is, they do not do things just because it is the right thing to do.  They will only do things after asking, "What'll ya gimme?"  For example, I had a group of fifth graders lined up to come into the building.  A bit of trash blew along the line and I, "Please someone pick up that trash and throw it in the bin on the way in."  Every student watched the trash roll past them.  One finally said, "What'll ya gimme if I do it?"  I looked at him, blinked, and said, "A nice big smile and a thank you."  He let the trash lay there, and I began reflecting on what rewards were doing to children.
So if yelling doesn't work, and rewards tend to backfire, what can a teacher do about THAT student?
I read a blog somewhere where the teacher said she would greet THAT student at the door in the morning and say, "I'm planning to make a call to your mom today to tell her the good things you are doing.  Make sure you are doing something today that I can tell her about!"  How ingenious!  It puts THAT student on notice to do good things and it makes the teacher notice them.  It is a win-win.
Think about how to offer a student encouragement when you notice s/he is trying to make changes or when s/he takes a baby step in the direction you want him/her to go.  (In another post I talked about the formula to use for praise or encouragement.)  Remember, THAT student can't do whatever that positive thing is again if s/he doesn't know what it is.  Think of encouragement as a way of getting students to replicate positive behavior.
If you are thinking, "Easier said than done," you are likely right.  But also think about this:  doing the same thing over and over again and expecting different results is ineffective as well.  Maybe it is time to try something new.