Do you recognize these students?
Katie
You have given the class a directive to do a certain assignment.  Katie gives a big sigh and rolls her eyes.  You look at her and raise your eyebrow.  Katie responds by saying, "No offense, but a whole lot of people think this is busy work.  Just saying."
Michael
You tell the class to put away their markers and glue sticks, to get out their math books and do the warm-up exercises on page 98.  Michael seems to be making a career out of putting the caps onto his markers just so, making sure the glue stick is twisted back into the tube exactly this amount.  He spends some more time arranging the markers and glue stick in his desk, then gets up to sharpen a pencil.  He takes the long way back to his desk, and then spends a few minutes looking in his things for his math book.  The rest of the class has completed the warm-up exercise before Michael has even opened his book.
Ann
Ann knows the teacher is an avid Packer fan.  A few minutes into the class period she asks the teacher what he thinks the Packer's odds are of wining over the Bears.  She asks this knowing that the teacher will begin to rant about this team or that team and their coaches.  When the teacher seems to slow down a bit, Ann asks another question to keep the teacher going.
All three of these students are displaying passive-aggressive behavior.  They may not be openly defying the teacher, but the result is the same.  Katie is using her "no offense" statement to deliberately insult the teacher's ability to plan meaningful assignments.  Michael is using stalling tactics to avoid doing the math warm[up exercises.  Ann is attempting to make it so there is no lesson today in that class.
Ann, Katie and Michael have become THAT student, the one who can frustrate a teacher to the point where s/he loses control and begins to shout.  An openly aggressive student might holler, or pinch, or throw a book.  That is upsetting, but the passive end of the passive-aggressive spectrum is probably more frustrating.
Whether the student's behavior is on the passive end of passive-aggressive behavior or the aggressive end, students (and sometimes teachers, friends, administrators, and parents) who are passive-aggressive are attempting to confuse, control, or punish other people with their behavior.  Aggressive behaviors generally send a clear, unambiguous message that X is not something the student is willing to do, or that Y has made him/her angry.  Students, and others, who attempt to manipulate others by being passive use a constellation of behaviors to confuse, control, or punish other people without being overtly aggressive or confrontational.
These passive but aggressive behaviors can be grouped into some common categories.
Subtle insults or digs:
Katie was using this strategy to let the teacher know what she thinks of the work the teacher has planned.  Starting the statement with "no offense, but" is a clear signal that what follows is meant to be offensive.  She then says that "a whole lot of people" to try to put numbers on her side, to imply that she is the only one honest enough to let you know what "everyone" is thinking.  Katie ends with "just saying".  This phrase seems to be a way of saying that the speaker is supposed to be absolved of any insult, slight, or hurt that is the result of  what s/he just said.
Slow to respond or does not comply:
Michael used this tactic to express his feelings about the math warm-up exercise or about being made to stop doing what he was doing, a preferred activity.  He does everything he can think of to delay taking out his textbook.  If the teacher were to correct him or attempt to hurry him, he would probably act stricken and hurt that the teacher did not "allow" him to put his things away neatly or to have a pencil with a functioning point.
Another example of a delaying tactic is the student who cannot seem to move a millimeter without asking the teacher for help or to validate what s/he has done.  This is the student who asks 493 questions about an assignment, or who consistently asks the teacher to help him.  Many students who use this tactic have been successful in the past at getting the teacher to do the work for him.  For example, Michael asks the teacher for help with a math problem.  The teacher starts to talk Michael through the problem, but because Michael continues to act confused or frustrated, the teacher winds up saying, "Here, Ill show you" and does the problem for Michael
The silent treatment:
When a student does not respond to what the teacher says to him, he is giving the teacher the silent treatment.  A more frustrating version of this is the student who might roll his eyes, drag his feel, but slowly complies without speaking aloud, however the look on his face let's the teacher know that, whatever it is, he is doing it under protest.
Students may also signal they are using the silent treatment by saying something, "Whatever" when told to do this or that.  This is saying, in effect, "I'm doing this under protest."  It also makes sure the teacher, and fellow students know that THAT student is not happy.
Sabotage:
A student who is using sabotage might subtly but deliberately mess up her work, her group's work, another student's work, or the teacher's work in order to avoid working or to let the other person know that she doesn't approve, or is mad about this or something else.  It is tough sometimes to know what the student is mad about.  Students can deliberately sabotage by consistently leaving homework at home or in their lockers, by consistently "forgetting" to bring necessary supplies (when it is not an economic reason).  Sabotage can be as subtle as trying to get the teacher off on a tangent to avoid having a particular lesson or class  In my experience, high school and middle school students can be masters at this!
Keeping score:
In essence, keeping score is saying "I'll do this if you do that" or "you did this to me so I am going to do this other thing."  Students who keep score often will try to persuade the teacher to do this or that because the student has done this or that.  For example, Marcus says, "If I turn in my paper, what will you give me for it?"  or "Because you let me chew gum in class today, I will do what you have asked me to do now" or "You did not allow me to chew gum in class when Henry was chewing gum so I'm not going to comply with what you want."
This last can happen even when the teacher didn't know that Henry had gum.  A passive-aggressive student might try to pull the teacher into an argument about Henry chewing gum or the advantages of chewing gum, switching tactics from keeping score to sabotage.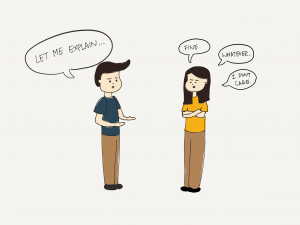 Psychologists tell us that anger is the root cause of all of these behaviors.  The student might be angry at the teacher, at education in general, at his parents, or at the world.  However, for whatever reason, the student has learned that an outright expression of anger is not allowed.
Like many negative student behaviors, there may be very good reasons why the student has learned to act in this particular manner.  We could spend days looking at these reasons or fill a book with examples.  What we really want to know, though, is not its cause but how to cope with it in the classroom.
Here is a method I've used:
Step 1
Make sure you have the student's attention by making eye contact, using the student's name in a very calm, and business-like tone, or by using proximity.  Doing all three is best.
Step 2
State what you want the student to do.  Do not say what not to do.  Say what you want the student to do.  Use a calm, business-like tone, and use as few words as possible.
For example, do NOT say something like, "Michael, it's time to take your math book out now, okay?"  or "Michael, it would be really nice if you would join us in doing math, so you need to get your math book out right now.  Please?"  or "MICHAEL!  I told you to get your math book out right now!  Stop playing around and get to it!"
The non-examples use too many words, put the directive in the form of a question, or demonstrate a loss of control by the teacher.  The student hears "okay?" or "please?" as making the behavior optional.  Shouting or becoming angry shows the student that his delaying strategy is working.
Instead say, "Michael, get your math book out now."
This is clear and concise.  There is no room for misunderstanding.
Step 3
Walk away!  Don't give in to the impulse to breathe down the student's neck.  Walk away and give the student 15 to 20 seconds to process the directive and to demonstrate that he is going to comply.
Step 4
If the student is showing ANY sign that he is beginning to comply with what you have told him to do, praise that partial effort.  Say, "Good.  You have taken out the math book.  Now open it to page 93."  Or say, "You have your math book out.  That's a good start."  And walk away again.
If the student has not begun to comply, repeat the first 3 steps and add a choice.  For example, "Michael, you may choose to get out your math book now, or you may choose to do the warm-up exercise during lunch."
Then walk away!
Walking away means you cannot get sucked into an argument.  You will not "help" the student do something s/he is perfectly capable of doing.  And you are continuing to teach the class with minimal interruption.
Step 5
If the student has even partially complied, use positive feedback:  "Good, you have your book out.  Now turn to page 93."  If the student has not complied in any way, follow through on the choices.  Use proximity and quietly say, "Michael, you have chosen to do this during lunch.  I will see you here in this room at 11:15."
And walk away.  Become deaf to the face-saving behaviors the student might show.  These could be making a remark under his breath, or slamming the book on the desk top, or putting his head down and not participating in class at all.  As long as the behavior is only preventing the student from learning the lesson planned for the day, ignore what the student is doing.  You only need to intervene if the student is preventing others from learning or the teacher from teaching.
Using this 5 step strategy means the teacher is not being controlled by the student's behavior.  The teacher is being authoritative and not being either a doormat or aggressive.
What if you have just realized you use passive-aggressive strategies to get a student to comply?  A teacher's passive-aggressive behavior can trigger rebellion in some students, making the student into THAT student.  But a teacher has an advantage.  Teachers are grown-ups, and as grown-ups, we are much more capable of recognizing and changing our behavior than children are.  We can choose to adopt behaviors that are assertive, not manipulative.
You now know some of the warning signs of a student using passive-aggressive behaviors.  To get the student to do what you want him/her to do, remember to be direct, say what you want the student to do in clear, simple, positive terms.  If the student does not comply, use the steps above to tell the student what s/he must do to comply.  Don't forget to praise partial compliance!